BP Consult, s.r.o. is a geological and environmental consulting company. Company is located in Prague, Czech Republic and operates within the whole Czech Republic and also in Slovak Republic.

Environmental Site Assessment
In a framework of Due Dilligence or for other purposes BP Consult conduct both Phase I and Phase II ESA in accordance to ASTM methodology. This methodology is modified to meet the national and EC requirements on the field of environmental and geological law. Consultants have more than fifteen years experience and are familliar with local and European legislation.
Geological and Geotechnical Investigation
For the purposes of designing of buildings and constructions BP Consult coducts geological, hydrogeological and geotechnical investigations. Company is authorized by the Ministry of Environment of CR to design, perform and evaluate geological works. All investigations are conducted in accordance to national legislation and methodologies.
---
Site remediation
We conduct risk assessments in accordance to national and US EPA methodologies and prepare reamdiation action plans and projects to mitigate the risks connected with contaminated land. In complicated cases works may include also feasibility study. The remediation is managed and supervised by BP Consult authorized persons on the basis of aproved projects.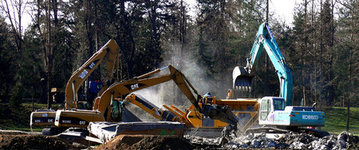 ---
Contact us
Fields marked with an asterisk (*) are required.